Welcome to our real estate blog, where we provide regular updates on the housing markets of various communities. In this mid-year snapshot, we'll explore the year-to-date statistics for Princeton and Keremeos in British Columbia, highlighting key trends and insights. Whether you're a prospective buyer, seller, or simply interested in the local real estate scene, this post will give you a brief overview of the current market conditions in both communities.
Princeton Real Estate:
Princeton B.C. has experienced a decline in the number of properties sold this year, with a decrease of 37% compared to the same period last year. This decline can be attributed to various factors, such as slowing economic conditions, increasing interest rates and shifting buyer preferences. Additionally, the average days on market have increased to 82 days, indicating a moderate slowdown in the sales process. Moreover, the average sale price has decreased by 15%, offering potential opportunities for buyers looking to invest in the area. Although Princeton had a surge in sales for May and June, listing inventory continues to be on the rise, providing buyers with a wider range of options to choose from.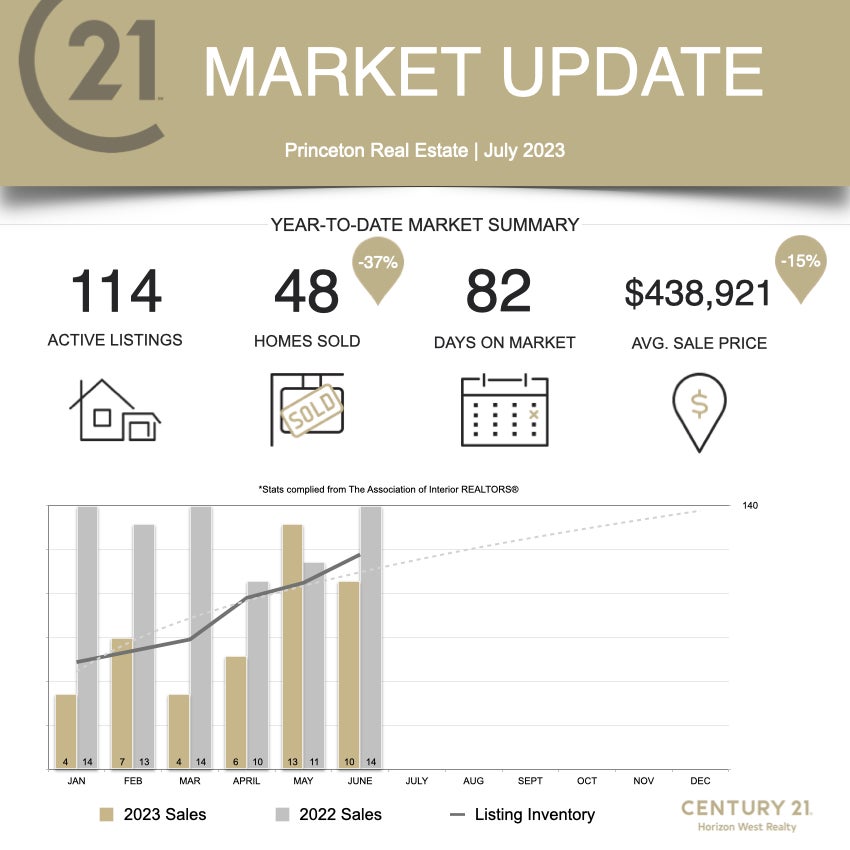 Keremeos Real Estate:
In contrast to Princeton, Keremeos B.C. has seen an increase in the number of homes sold this year, with a growth of 10% compared to the previous year. This positive trend suggests a healthy demand for properties in the area that's in close proximity to the South Okanagan. The average days on market currently stand at 78 days, indicating a relatively quick, small market turnover and active buyer interest. Although the average sale price has experienced a slight decrease of 5%, it is important to note that this can vary depending on property type, location, and condition. Presently, there are 77 active listings in Keremeos.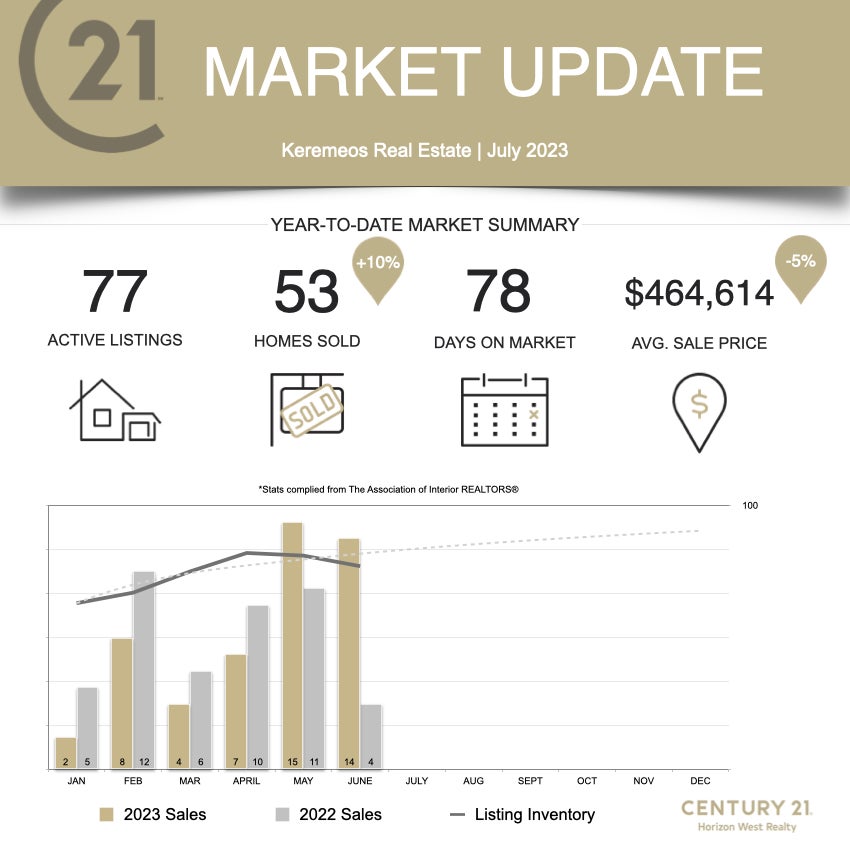 Conclusion:
As we reach the mid-year point, the real estate markets in Princeton and Keremeos show distinct trends. Princeton B.C. has witnessed a decline in properties sold, a moderate increase in average days on market, a decrease in average sale price, and an expanding listing inventory. In contrast, Keremeos B.C. has experienced an unexpected rise in home sales in the last two months, with a minor decrease in average sale price, and inventory that remains flat. If interest rates and inventory levels continue to rise along with worsening affordability, we will likely see a real estate market that loses steam in the latter half of the year creating a more balanced market where buyers will be more sensitive to home pricing. 
Whether you're considering buying or selling property in Princeton or Keremeos, we offer knowledgeable local real estate agents who can provide tailored advice based on the specific market conditions. We can help you navigate the current landscape, analyze individual property values, and guide you through the buying or selling process.
For more comprehensive insights, don't hesitate to contact us at our local Princeton and Keremeos office locations, where we can provide detailed market analyses and personalized guidance for your specific real estate needs.